About us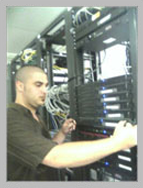 H4Y Technologies LLC (Formerly Host for Yourself LLC) was founded in 2001 as a limited liability partnership based in Brookeville, MD. As of 2009, H4Y Technologies LLC purchased iWebFusion Technologies LLC of Oregon and integrated it as a seperate brand. H4Y is registered and its main offices are now located in Central Florida although we have presence in many areas. The company has remained profitable since its creation.
Today, Host4Yourself's DNS servers are authoritative for over 50,000 internet domains and we serve hundreds of small to large hosting customers throughout the world. Many of our clients are web designers and hosting resellers. Our hosting clients range from customers with a single domain name registration or Basic hosting account to clients with several load balenced, fully managed dedicated server clusters or private cloud systems serving some of the most popular websites and highest traffic applications on the net. Many competitive businesses rely on our expertise in maintaining their network or solving technical problems. Our web designers and web design partners have created simple webpages for individuals up to enterprise-level programming projects netting 5 figures and more. We retain the "small" company feel with the dedicated, personalized attention we give our clients. Our senior level techs will often give customers their personal cell phone number if it makes a technical support situation more convenient. We take every effort to be the most honest, responsive service provider bar none.
H4Y Technologies LLC strives to make regular donations to the internet community, the hosting community, and the Linux community. We routinely donate a portion of our profit to the open source software developers who provide some of the technologies we utilize every day. Our techs participate, voluntarily, in many of the largest online hosting discussion forums and groups. Our designers regularly create and maintain community oriented websites where we are able to share our expertise with others and promote our services.
Host4Yourself.com puts a large emphasis on technical support. We come through for you 100% of the time - we answer every email - we return phone calls promptly - we ALWAYS find a solution. Our remote administrators will even help you with HTML, your web design program, and CGI scripts absolutely FREE (support is provided up to a reasonable point). Just ask us your question and we'll see what we can do to help. No other hosting company offers this kind of dedicated support - let alone FREE WEB DESIGN HELP from professional web designers and programmers. Our 24/7 support provides multiple ways to converse with a KNOWLEDGEABLE, professional tech support representative. Our preferred support method, email, is answered quickly and problems are eradicated completely.